to everyone who supported school on Rose Queen Day - it was fun despite the weather!
We raised an amazing £1183! Photos to follow.....Enjoy your half term holiday,
see you on June 11th.
Click the logo to find out more!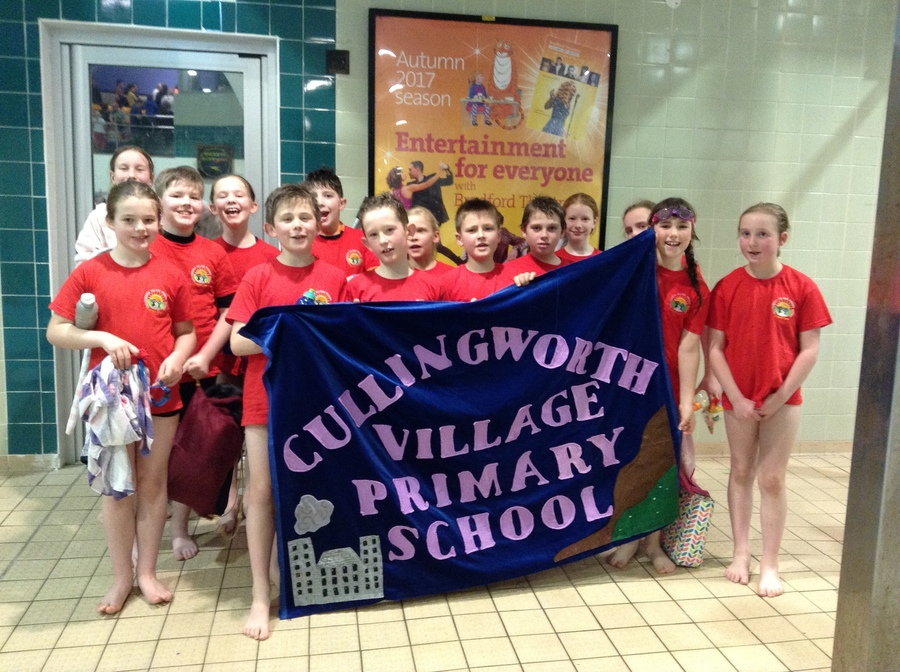 Some of our KS2 children took part in the Bradford Schools Swimming Gala.
Click the logo to sign up for next Saturdays draw.The prize money will increase the more tickets we sell.
There were some fantastic costumes on World Book Day!
The relationships between staff and pupils are very positive. As a
result, behaviour in lessons and conduct around the extremely well-kept and tidy
school environment are exemplary. You have succeeded in creating a very warm
and caring environment where pupils and staff feel valued and part of a team.
February 2018
Click to logo to log on to
Our School Code of Conduct
Readiness, Resilience and Reflection
We always do the best we can by:-
being ready to learn
never giving up
thinking carefully
We always show respect to everybody and everything.
We always keep ourselves, the school and others safe.
Please continue to support the campaign for safe parking around our school by parking safely when dropping off and picking up your children.
The Reception children had a fantastic time at the Sea Life Centre in Manchester.
Latest Calendar Events
Back to School

11

Jun

2018

Bake Off Week

11

Jun

2018

@ School

Cheerleading - Sportscool

11

Jun

2018

3:05 pm - 4:10 pm @ School

Please see letters page for details.

Bake Off Week

12

Jun

2018

@ School

Striking and Fielding - Sportscool

12

Jun

2018

3:05 pm - 4:10 pm @ School

Please see letters page for details
Another lost sweatshirt or PE kit? Take a look at this brilliant way to name and personalise all your uniform - and make a 30% donation to Friends of Cullingworth at the same time! Click HERE to link to the Stamptastic website using the code BD13 5DA when you order.
**** If you require a paper copy of any of the information contained on the School Website please contact the office or call us on the number below****
Children's collection arrangements
Please ensure you let your child's teacher or the school office know if someone different to usual will be collecting your child from school.
This helps to avoid any confusion and delays at the end of the school day.