At Cullingworth Village Primary School we take the children's E-Safety very seriously and work as a team to ensure our pupils are educated and prepared to surf the cyber world and all it has to offer safely. All of our E-Safety policies and documents can be viewed HERE on our Policies page.
Digital leaders 2021-2022...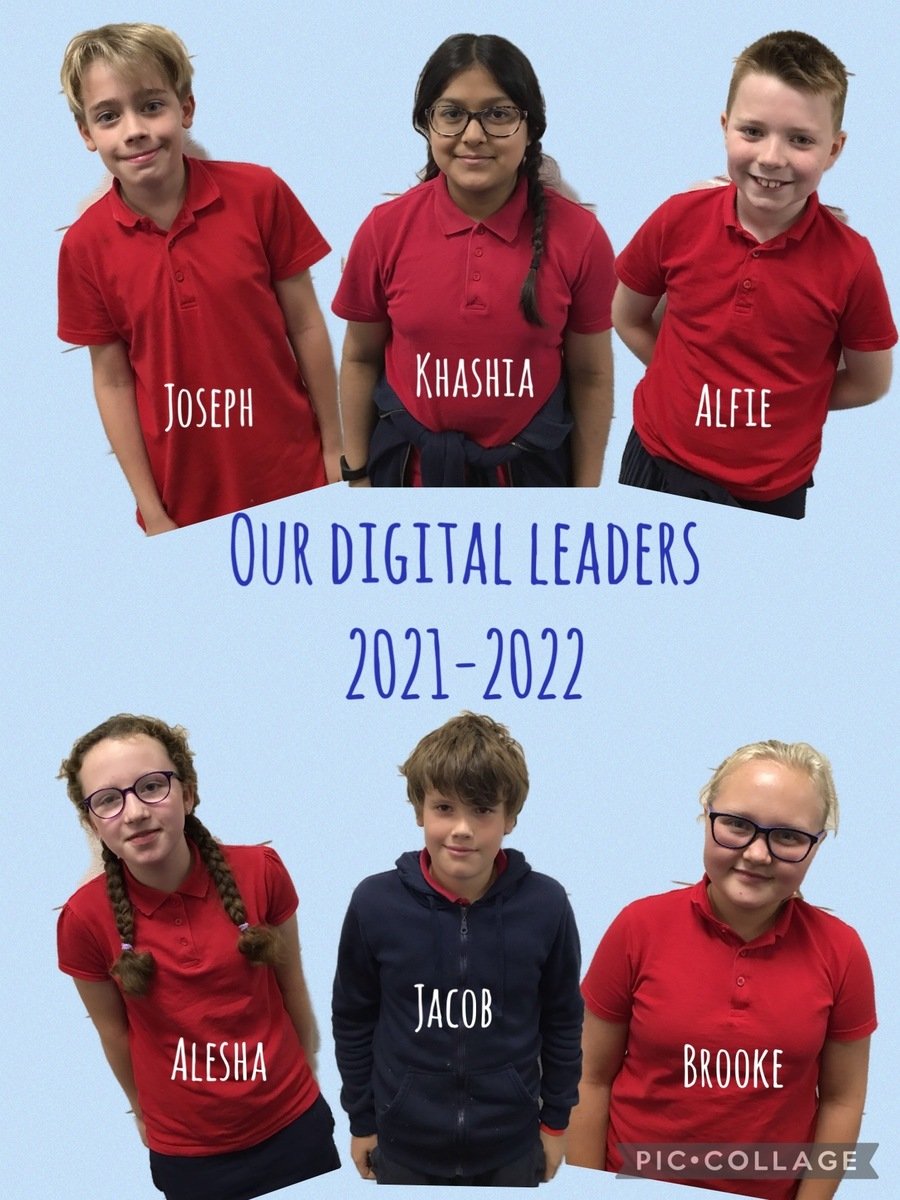 As part of our celebrations for Safer Internet Day 2021 we held a poster competition. See some of the fantastic entries in the slides below......
The winners are as follows:
Reception - Joshua - Mrs Byrnes
KS1 - Oliver C - 1/2N
KS2 - Evie T - 3/4P
Reception winner - Joshua from Mrs Byrnes' class created this poster with some great advice from Digiduck!
KS1 winner - Oliver C from 1/2N created this fantastic poster of what the internet can be used for and some great advice on how to stay safe when using it.
KS2 winner - Evie T from 3/4P created this brilliant interactive poster of how the internet can sometimes trick you and what to look out for. Like Evie says " If you're not sure, find out more!"
Here are some of the Reception entries...
Here are some of the KS1 entries...
Here are some of the KS2 entries...
We celebrated Safer Internet Day on Tuesday 9th February 2021 by taking part in lots of activities around staying safe on the internet with a strong focus on 'What is reliable and trustworthy in the online world?'
Parent's Guide To Keeping Children Safe Online:
Click HERE to find a parent's guide to keeping children safe online - This is a useful guide written by a child psychiatrist working for Priory Group ( A provider of mental healthcare in the UK). Keeping children safe online is more important than ever now we are all spending more time online. Please take a look...
Click HERE to read about 14 ways to keep your child safe online.
Click HERE to read about screen addiction and responsible use. As we are spending more time looking at our screens it is important to take control and ensure it is having a positive impact on our children's lives.
As part of Safer internet Week, some children in school have talked about accessing a variety of apps and social media sites online. We encourage children to use these Apps and sites whilst emphasising the need to stay safe.
If you know your children have access to any of these apps or games below its worth a look!
Here are links to useful parent guides to some of the most popular apps/social media sites used along with other useful links.
Parenting in a digital world - a Purple Mash booklet.
E-safety workshops...
Years 3, 4, 5 and 6 recently had an online safety workshop lead by the cyber team from the West Yorkshire Police. The workshop covered the use of social media and the ages restrictions on social media websites and games. They also learnt how to create a good password and communicating safely with others on the internet. Here are some photos...
Here are some e-safety posters made by years 5 and 6 after the workshop...
Here are some quotes from the children during their discussions after the workshop...
"I really enjoyed the talk. It made me realise that the things I post online now will still be there when I am an adult and looking for a job. It is important that I think carefully before posting online." Amy
"During the talk I learnt that it is illegal to take or share photos without clothing on" Eddy
"The talk made me realise how much technology has advanced in the past 30 years" Zoey
"The video showed us that if you share details online anyone can access it. People aren't always who they say they are online and can lie about their identity to become your friend. Even without intending to you can share personal details such as your school (if you post pictures in your school uniform)"
"The talk made me realise that if you wouldn't do it or share it in person then don't do it online. For example, you wouldn't show a stranger pictures of your house. However if you post this online, strangers may be able to see your house and the area you live in."
Remember, we provide all children in our school with home access to both
Please ask in the office if you are unsure of your child's log in details
.