5/6H - Sumatran Tigers
Welcome to our Class Page!
Working in our class is:
Miss Housley (Class teacher)
If you need to speak to Miss Housley about anything, please grab me on the door in the morning or after school and I'll be happy to talk.
This half-term our topic is: Early Islamic Civilisation
.
Please see the curriculum map for this half term below.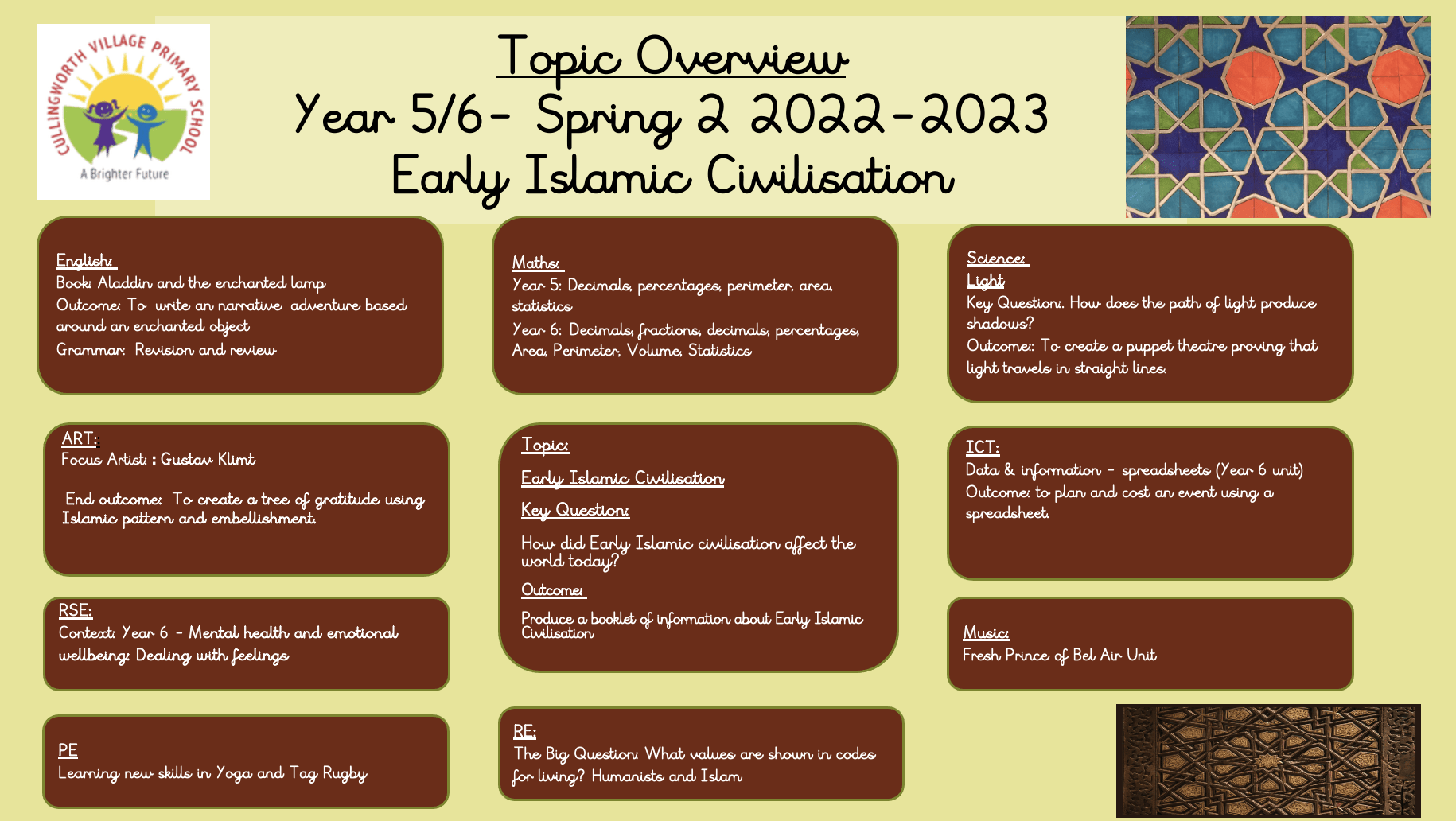 Knowledge Organisers
History: Science:

Homework Learning Tasks
Each half term new homework tasks will be set, these will be based on our latest topic. Students should complete one activity each week and hand in to Miss Housley every Friday.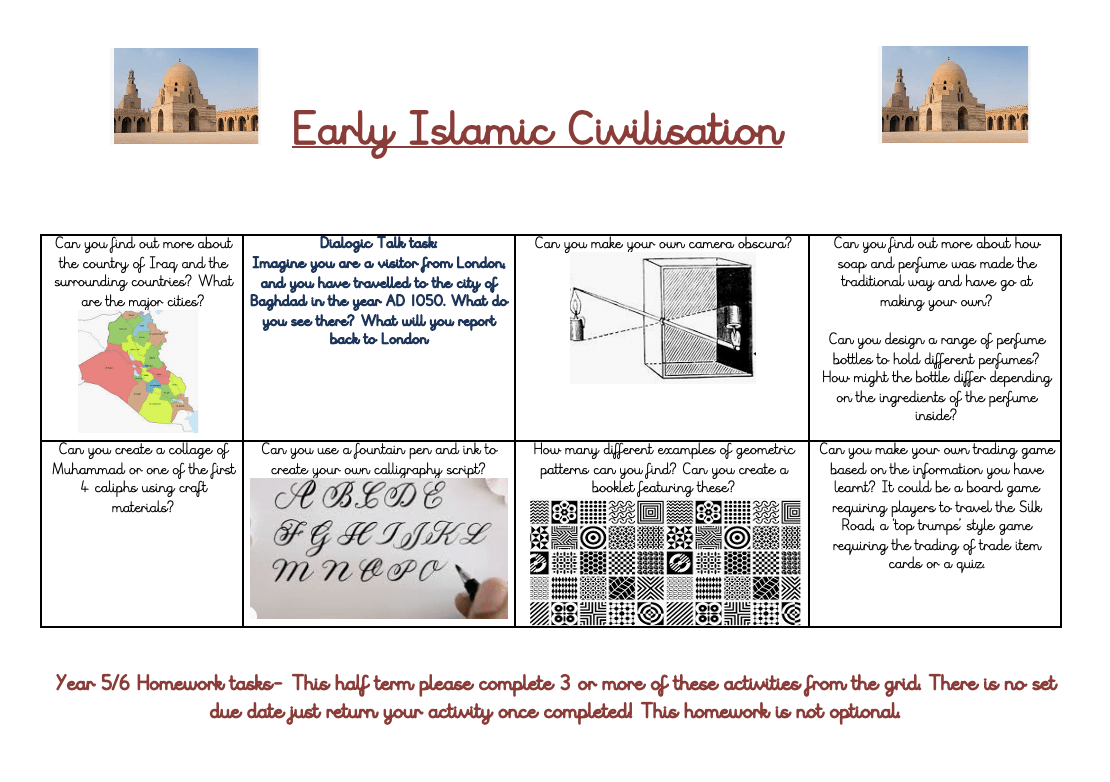 Timetable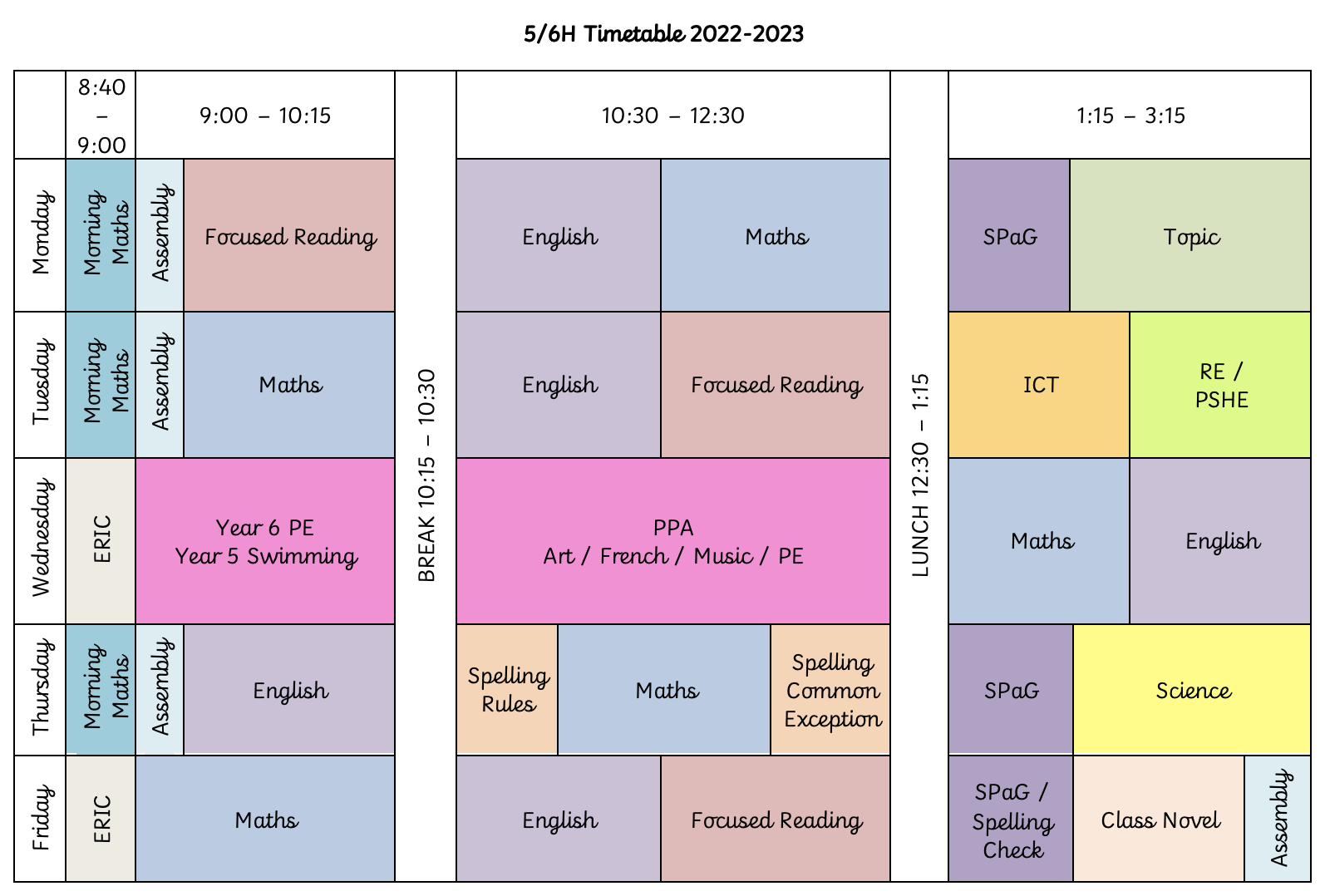 Noticeboard
Planners
Planners are to be signed every week and daily reading recorded in them. Also, there is a lot of information that is really useful for all subjects, along with a copy of our class timetable.
PE & Swimming
We have PE on Wednesdays.
Please ensure that your child is wearing their PE kit on these days, long hair should be tied back and jewellery removed (or earrings taped).
Take a look at our incredible learning from the last academic year! (2021 - 2022)
Ancient Greek Day
On Tuesday 21st June, we spent a day learning about the Ancient Greeks. We had a visit from an Ancient Greek workshop specialist who provided an exciting insight into this Classical period, putting it into context with the Bronze Age and Hellenistic Periods. This allowed us to look at the myths, the importance of Alexander the Great and the great scientific discoveries.
Rose Queen Day
Our annual Rose Queen event was held on Thursday 26th May. This year's theme was the "50's and the Queen's Platinum Jubilee". Year 5/6 children came dressed in 50's inspired clothing or something red, white and blue.
As part of school fundraising, we had various stalls and games, these were operated by Year 5 and 6 children.
Last half term: Ancient Greeks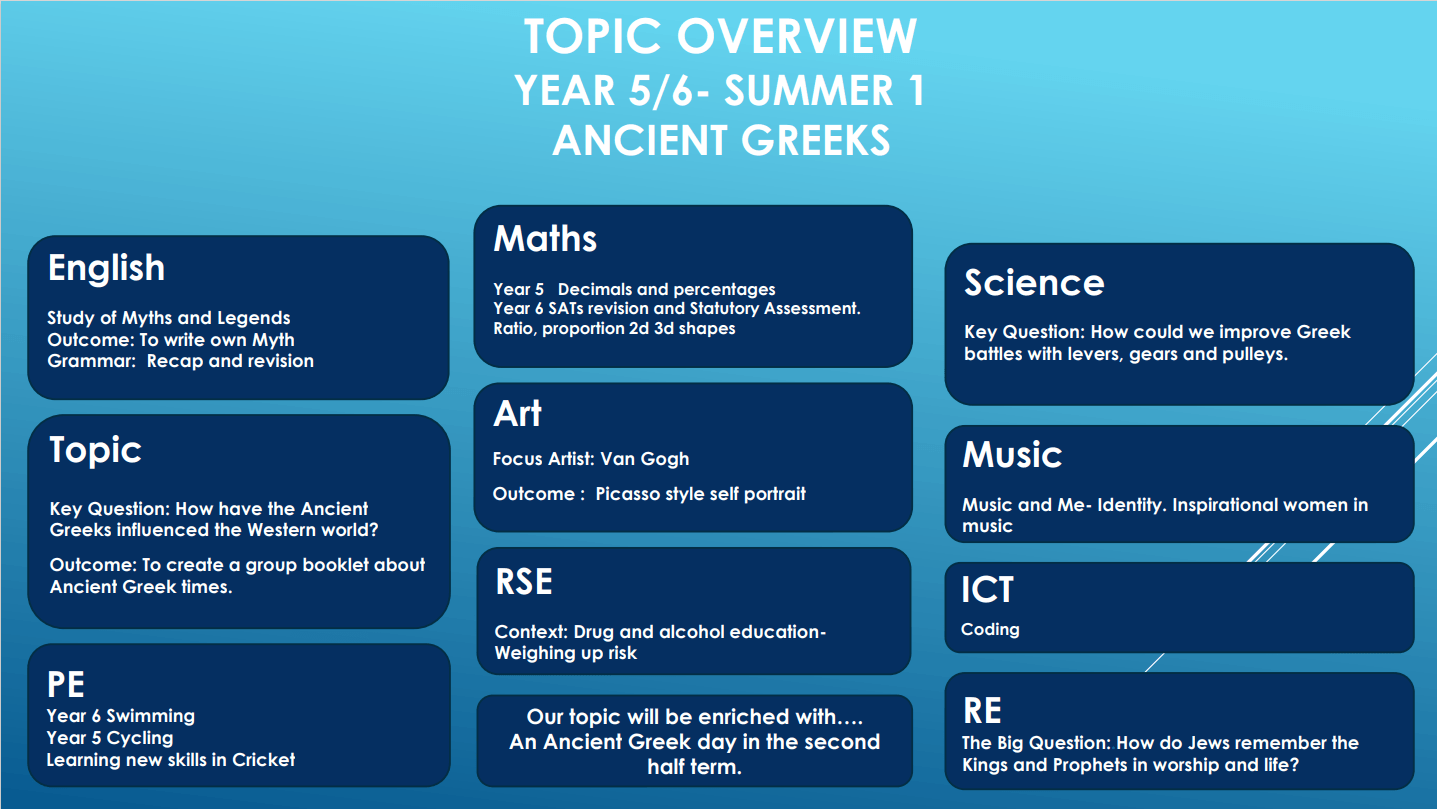 Last half term: Marvellous Mountains
Topic overview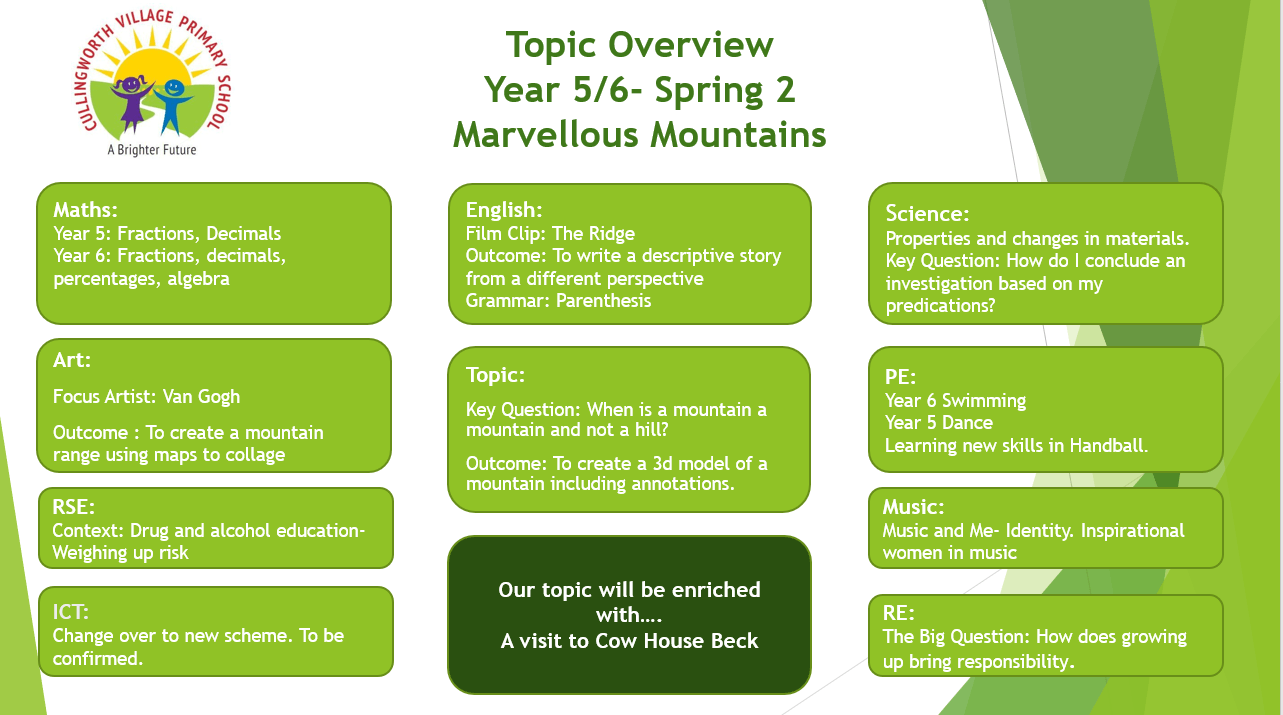 English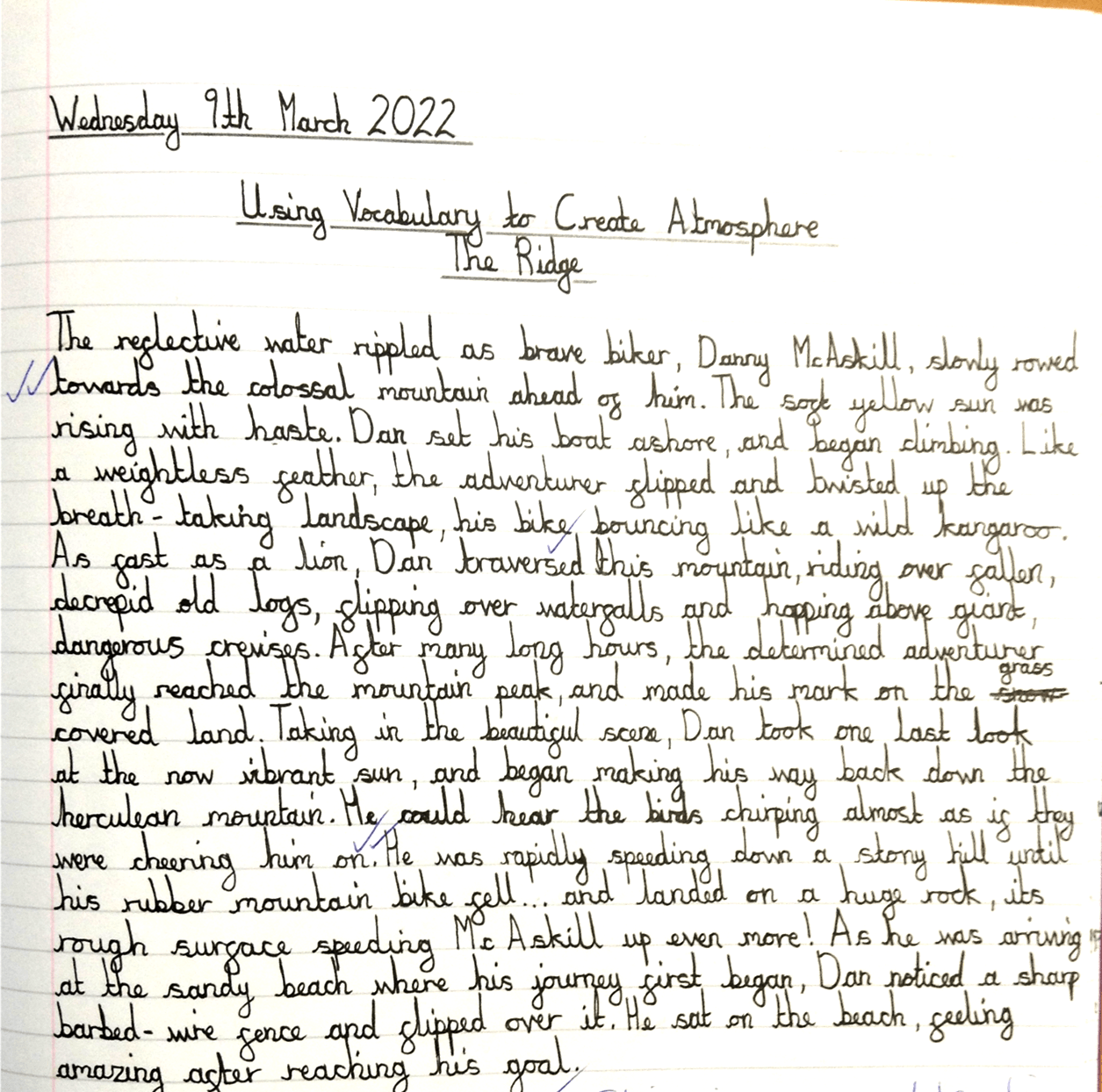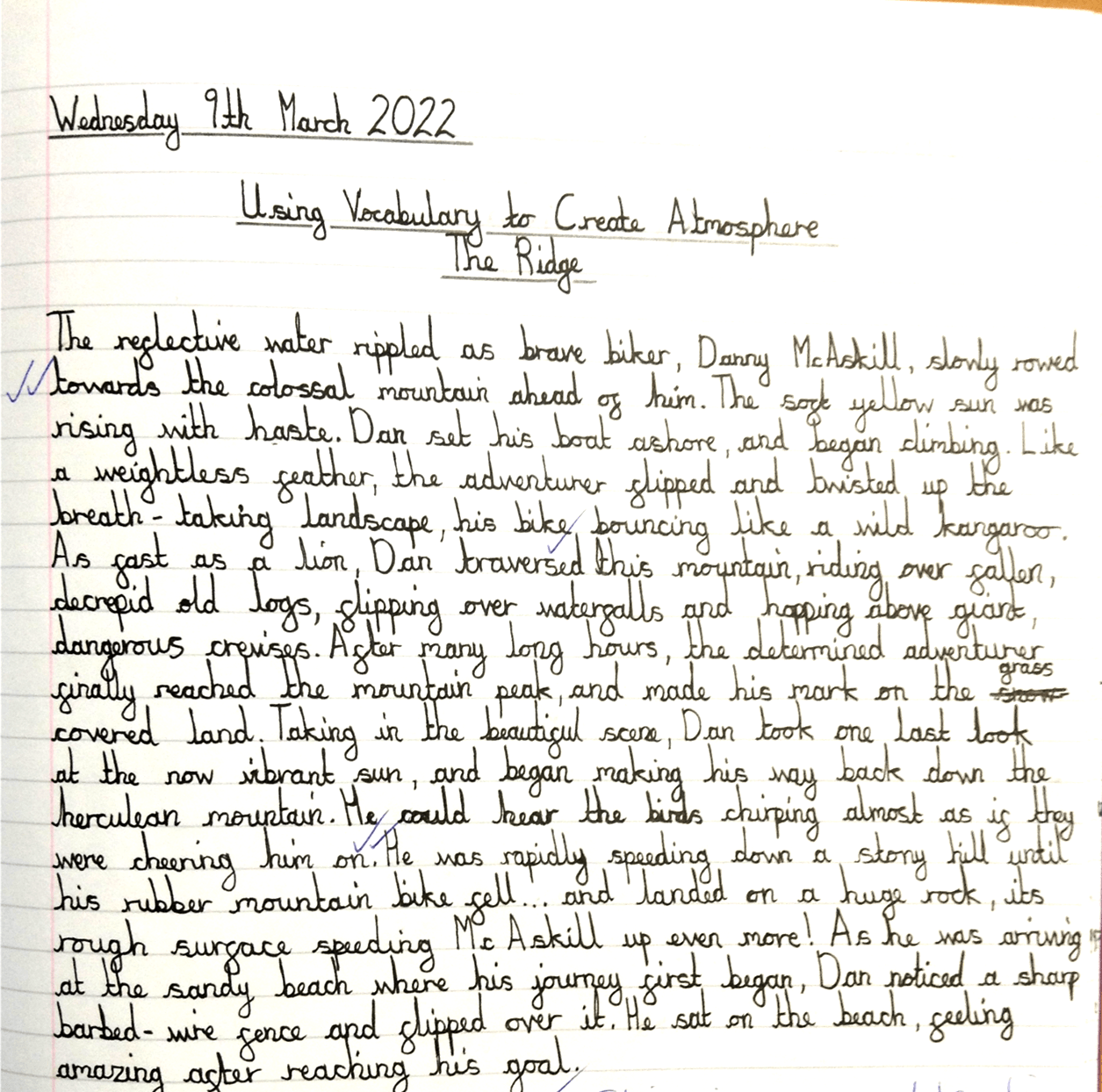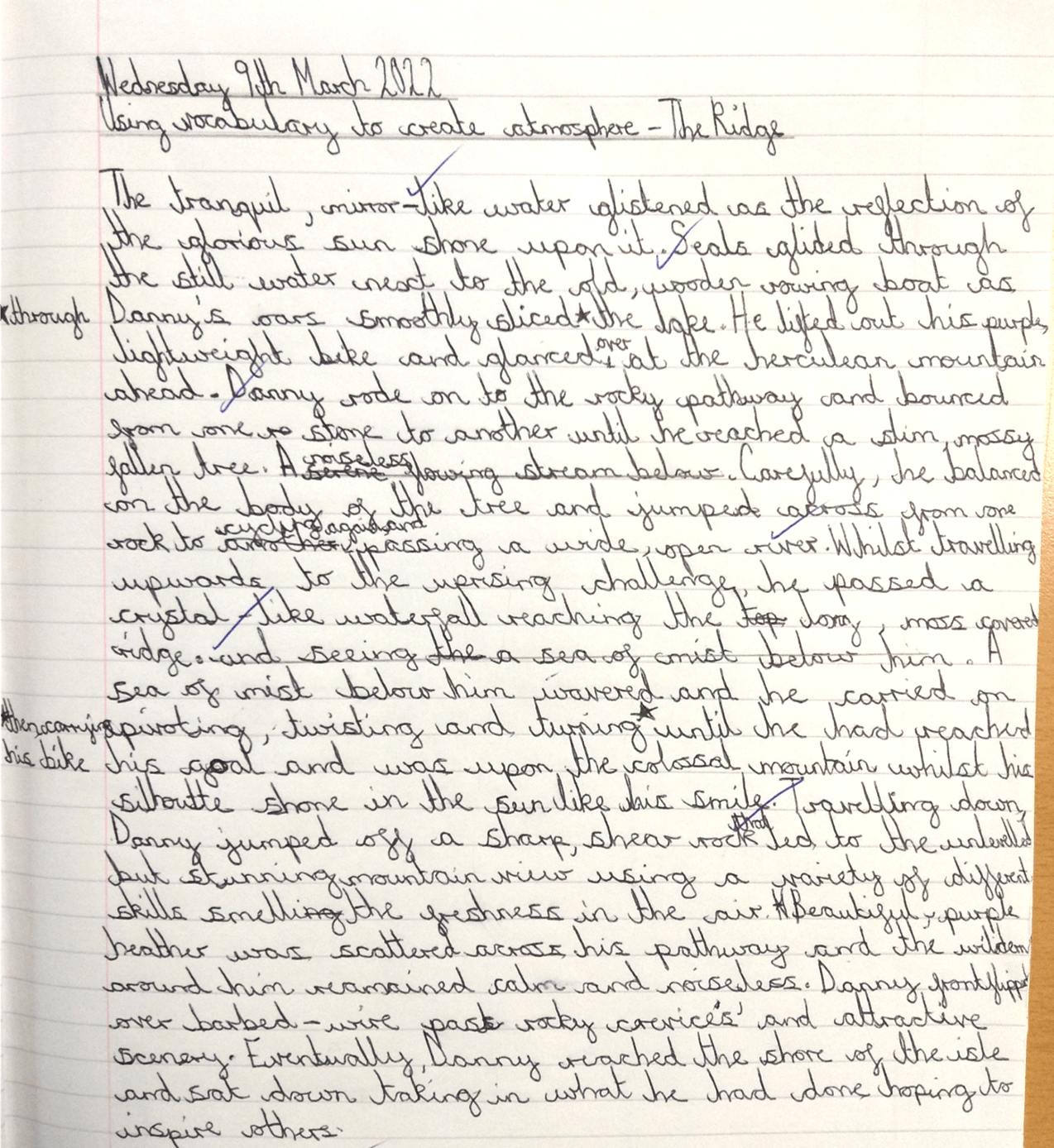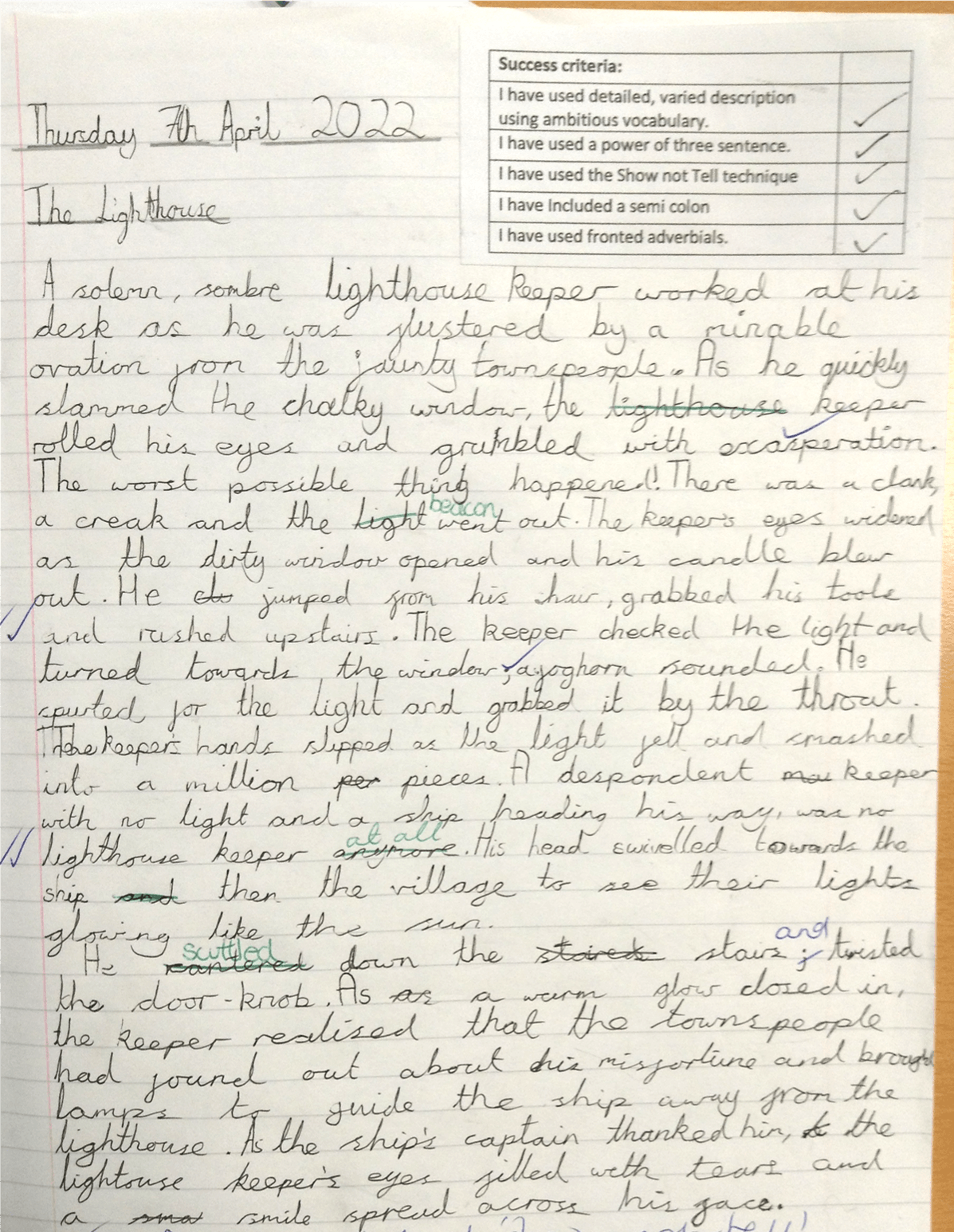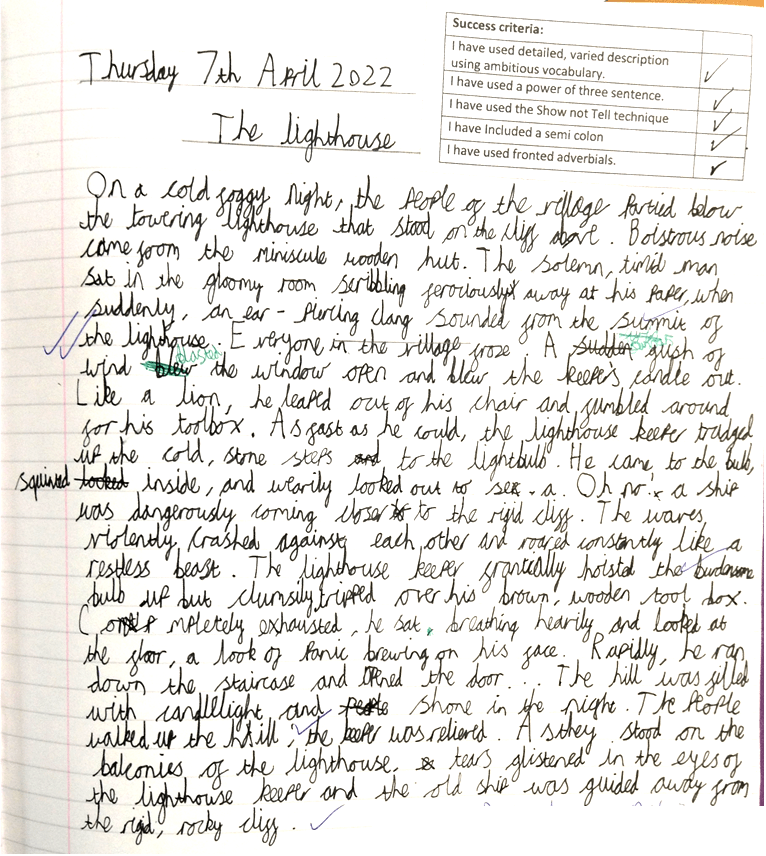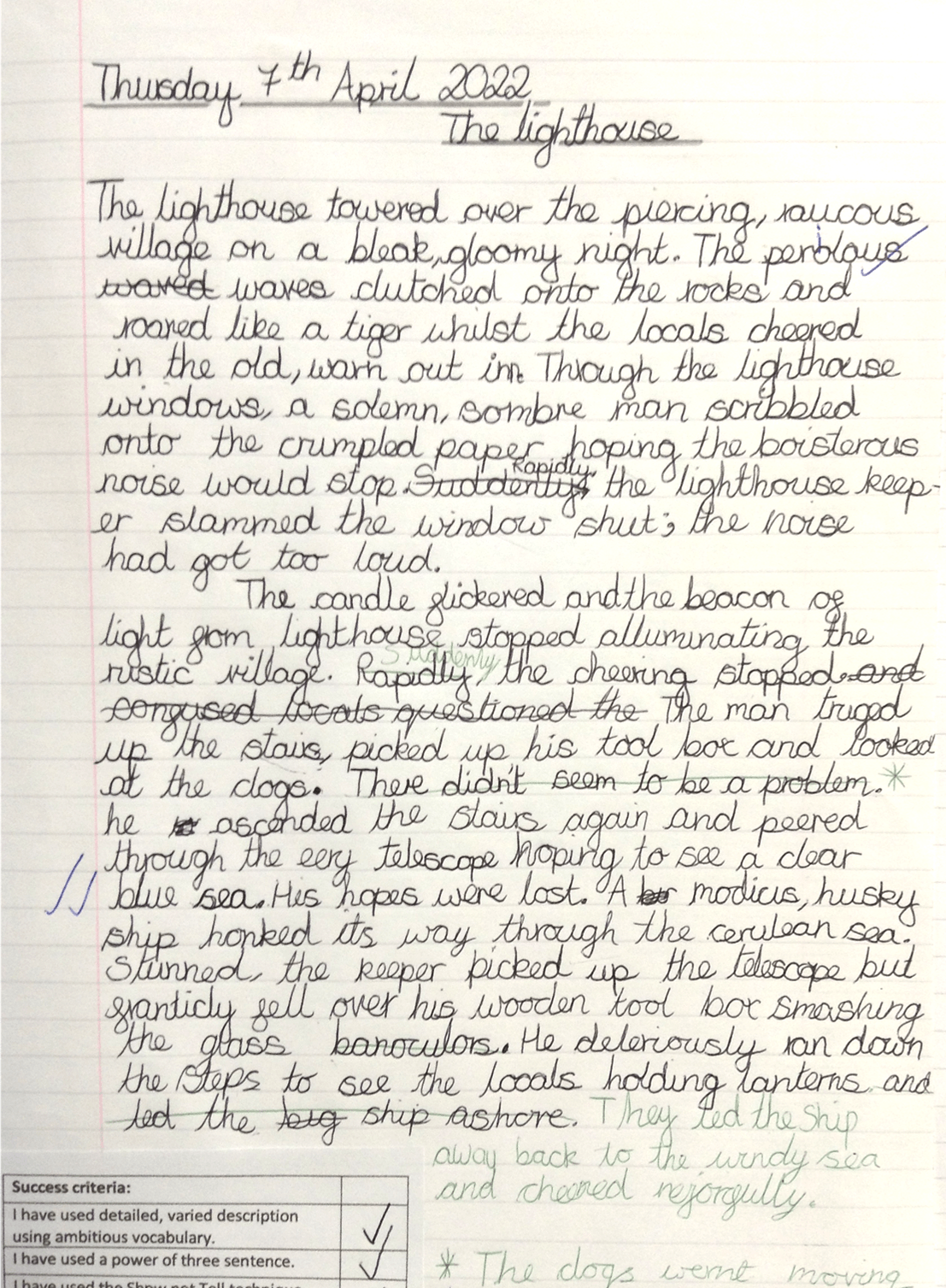 Art
We used watercolours to create a mountain/mountain range and added shadows with charcoal. Finally, we used coloured pencils to add patterns to the sky (similar to Van Gogh's style).
Creating 3D models in Topic.
Visit to Cow House Beck
As part of our topic, Marvellous Mountains, we went on a sunny walk to Cow House Beck!
Spring 1: Riotous Royalty

We learnt about the key monarchs between 1066 and 1603. At the end of our topic we created a group of 5 top trump cards
about the royals showing DOB, DOD, when crowned, length of Reign, their spouses and children.
We made Tudor roses out of felt and developed our sewing skills.
Our topic was enriched by a Medieval Banquet. A meal of chicken, potatoes and green beans was enjoyed by most, anyone who announced their disapproval found themselves in the stocks!
We studied the Magna Carta and created our very own rules for school. We carefully added a ribbon and seal using melted wax to make them look even more authentic!
PE: Dance, Movement & Gymnastics
Last half term we created a sequence of dances based on our Space topic. Year 6 worked in small groups to produce different formations and transitions, using counts of 8 to stay in time with the music. We created group motifs and worked in unison to form a fantastic final routine!
Class Assembly
Dance
In PE, we have been looking at Movement and Dance. We are focusing on spatial awareness, body control, rhythm, timing, transitions and teamwork. We have learnt new body moves which we will put together into a sequence and dance based around our Science topic, The Solar System.
Science
We had a visit from the Planetarium, which was amazing! We learnt so many facts about our Solar System and even managed to have a question and answer session afterwards. This is going to help our learning so much!
We researched information about the planets in our solar system and created our very own planets. First, we needed to use paper mache and balloons to create the shape. When these had dried, we carefully painted the correct colours, creating texture and detail. Finally, we made fact files and displayed these in our classroom.
Art
We had a close up photo taken of our face, then traced around it using tracing paper. Using the transfer, we copied our face again and used a combination of fine liners/marker pens to add detail. Finally, we added coloured crepe paper and newspaper articles/images from World War 2 to create a background..
In our first lesson of the half term, we used the grid method to copy an image of a World War II plane. Afterwards, we enlarged and repeated the image onto A3 paper. We added detail and shading, making sure we kept within the correct gridlines.
In our third lesson, we created a water colour wash to match the background from the original image.
Hello Yellow Day
To celebrate World Mental Health Day, we all came dressed in yellow. We worked in groups to discuss mental health and what we could do to help. Together, we made a short video.
Homework Tasks
We've been so impressed with homework tasks completed so far this half term. To view your homework tasks click here.
Check out this amazing radio advert that persuades the British to rally together and join the war effort.
Forest Schools
We played games and had lots of fun in our woodland! We explored, made rope swings and built dens. Then we sharpened sticks with vegetable peelers and finished the session with a wolf howl around the fire!
Science
In science, we are learning about animals and their habitats. We are looking at the differences in the life cycles of a mammal, an amphibian, an insect and a bird. Also, we are describing the life process of reproduction in some plants and animals.
The photos below show our first scientific study, we started with a parent plant (sempervivum) and each picked a plantlet. Next, we put soil into a plant pot and added the plantlet. The plant that is produced (from the plantlet) will be a clone of the parent.
Identifying parts of a flower
We dissected a lily head and labelled the parts of the flower.
PE
As a warm up activity in PE, we worked as a team to navigate around an obstacle course. We had to keep the ball balanced in the air, with only one index finger touching the ball!