Children exploring weather and climate in their recent Polar Region topic. KS1 have learnt about Global Warming and have adopted a polar bear.
Children enjoying working in our outside space and learning about themselves and the world around them.
As a school, we have developed links with the local community and we are often seen in the local area learning about the village we live in.
Year 1 children have fun on a visit to Eureka!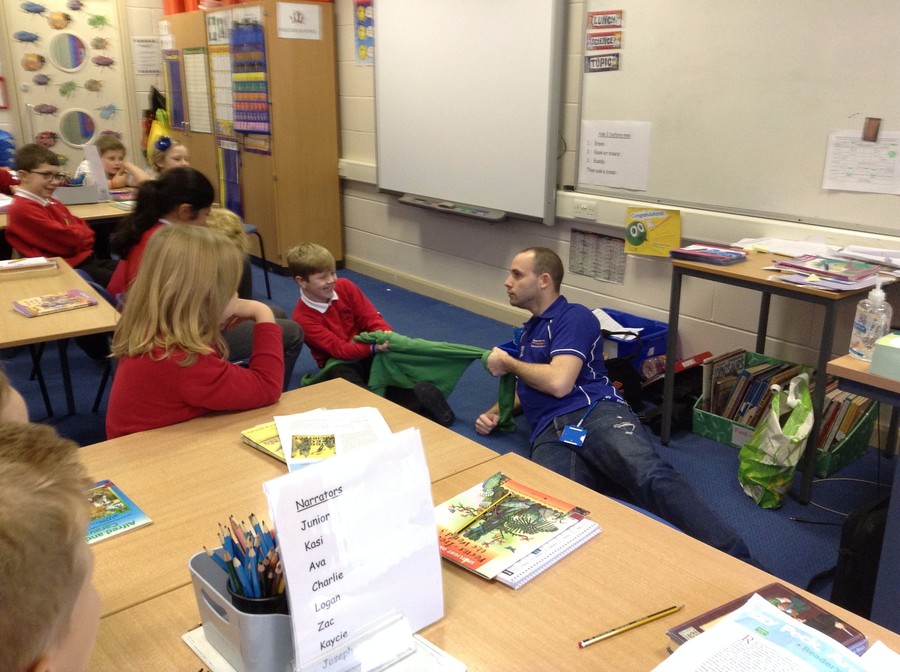 Year 4 had a talk on water safety from a member of Bradford Council. They found out how to be safe near water and what to do if someone falls into a river.
Key stage 1 had a talk on road safety from the Bradford road safety team. They acted out how to safely cross the road.
All pupils from Reception to Year 6 learn about the importance of staying safe online. The year 6 Digital Leaders hold e safety assemblies for each Key Stage and provide support at the computer clubs.
The whole school enjoyed taking part in the Power of One assembly.
Pupils in Year 3 take part in the Linking Schools project, the children getting to know each other in each others schools and at Nell Bank
There is a wide variety of after school and other extra curricular activities taking place within our school.
Children in Year 3 enjoyed visiting Parkside to work with the Year 11 Sports leadership students
.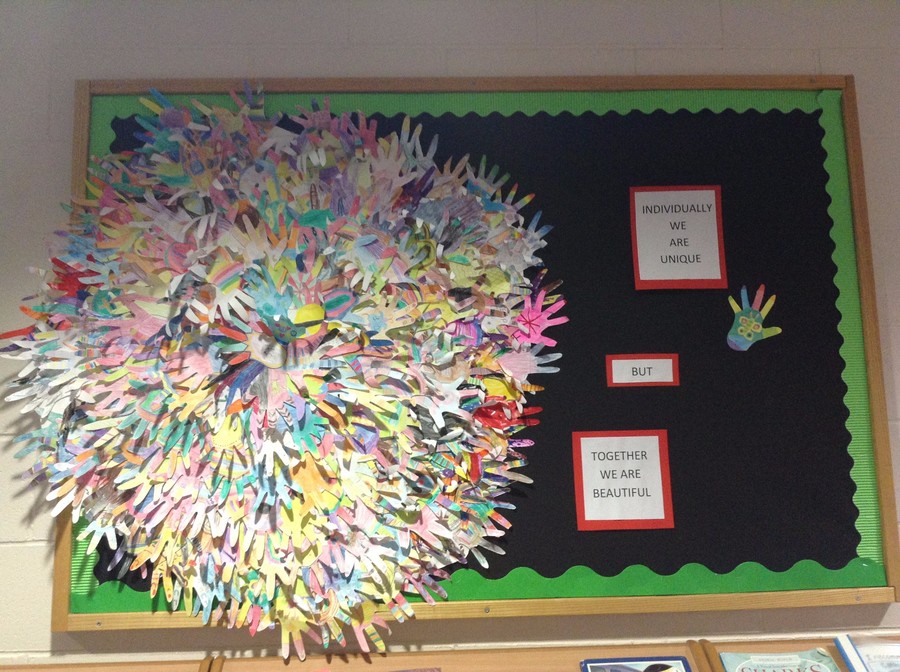 Mrs Wood asked all the children in school to draw around their hand and decorate it. All of the hands have now been added to a colourful display in the corridor. The children have discussed that individually they are unique but together they are beautiful.
Our Year 6 pupils took part in a Sikh dancing workshop.
Spiritual, Moral, Social and Cultural (SMSC) Development including British Values
At Cullingworth Village Primary School, the Spiritual, Moral, Social and Cultural Development of our children also includes the development and understanding of modern British Values. This links with our school motto and values:
We deliver excellence for a brighter future
We provide a safe, welcoming, happy and healthy school.
We foster an understanding of the value of learning for life by developing lively, enquiring minds and the ability to experiment, investigate, take risks, challenge, reflect and make informed choices in order for everyone to reach their full potential.
We foster an inclusive school community that encourages mutual respect and understanding of people of all abilities, physical needs, gender, backgrounds and religious belief.
We provide an exciting creative curriculum that engages and inspires children with their learning and includes working closely with parents, carers the local and extended communities to enhance and enrich educational opportunities, broaden horizons and widen experiences.
We promote positive attitudes, behaviour and relationships.
Our school motto is at the heart of our curriculum and pastoral work.
Spiritual Development
The curriculum at Cullingworth allows the children to imagine, reflect, create and enjoy learning about themselves, others and the world around them.
The Year 1 and 2 children had a visit from a dinosaur expert who brought a real dinosaur egg. The children were fascinated to learn that over the weekend, the egg hatched. This created a buzz of excitement around KS1 for days as the children wrote instructions to catch the dinosaur.
The children in Years 3 and 4 have recently started their Tudor topic. They dressed up in Tudor costumes and found out what life would have been like.
In Foundation Stage, the children have been learning about space. Recently, they had to try and catch an alien who was running around their playground!
Children in Year 6 have visited Eden Camp to learn about life during the war.
These photographs show our children developing their use of imagination and creativity in their learning. They show the children's sense of enjoyment and fascination in learning.
From the moment children start at our school, they learn how to care about others and show respect for other people's feelings, values, faiths and beliefs through our curriculum, assemblies and our thoughts for the week.
Moral Development
As a school we are committed to ensuring that our children are thoughtful, active and caring citizens at school and in the wider world.
The children are taught to be able to recognise right from wrong. They understand the consequences of their behaviour and actions.
Through Circle Time, children from a young age are encouraged to offer views about moral and ethical issues and to understand and appreciate the viewpoints of others. As they move through school, these opinions are expressed in group work and debates.
Lyn Hallard from the NSPCC came to explain the work of the charity. We then had a whole school Zumbathon to raise money for them.
The children also raised money for the British Heart Foundation by completing a whole school sponsored skip. We completed this on the viaduct as it is such an important part of our village and community.
Enter text...Football tournament
Social Development
Our children enjoy collaborating and socialising with other children in school, in the playground and at after school clubs.
We have strong links with Atlas Primary School through our work on the Schools Linking Programme. This work is reinforced with our collective worship and assembly visitors.
We are proud of our Year 6 Playground Leaders who organise games at lunchtimes as well as supporting the younger children to cooperate well and resolve conflicts effectively. Other children volunteer to support children with their reading and Maths on a weekly basis. We are lucky to have a dedicated group of children in Year 5 who help organise the library.
These pictures show different children in school volunteering. They help younger children with their Maths work and their reading, providing play opportunities for all children at lunchtimes as well as organising the school library.
We have a Key Stage 2 Choir which takes place on Wednesday after school. It is run by Mrs Richmond our music teacher. The choir perform at the annual Gala in Cullingworth, on Rose Queen Day and at other community events.
Cultural Development
In school we develop the children's understanding and appreciation of the range of different cultures within school and the city in which we live. This is an essential element of their preparation for life in modern Britain.
At Cullingworth, we help the children to understand, accept, respect and celebrate diversity through a range of opportunities e.g. visits, visitors, stories and musical opportunities.
We had a fantastic French Day in October!