WELCOME TO OUR WEB PAGE
THIS IS OUR LEARNING JOURNEY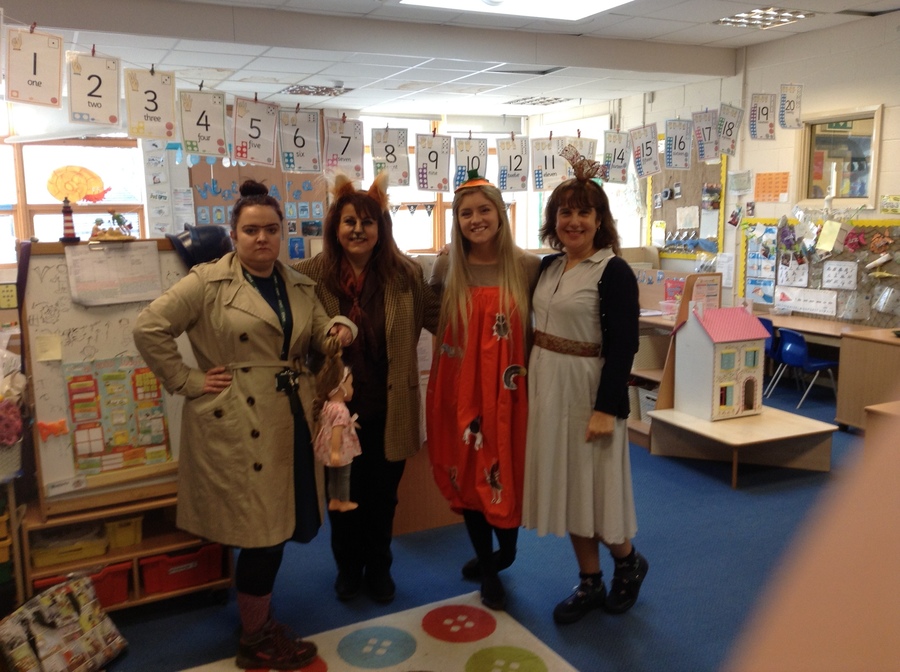 THE RECEPTION TEAM
Left to right
Mrs. Susie Byrnes - Red Team Mrs. Liliana Copland - Yellow Team
Miss Lauren Warke - Green Team Mrs. Michelle Tillotson - Blue Team
Enter text...
SPRING 2
The topic this half term is Pirates and we will be looking at a variety of fiction and non fiction books to support our topic.
SPORT RELIEF
We all walked a mile in aid of Sport's Relief - in fact some of us ran part of the way!
EASTER BONNET PARADE
We held our own Easter Bonnet Parade in Reception and I'm sure you'll agree - they look 'eggstremely' good!
THE SEALIFE CENTRE
The highlight of this half-term's learning was a trip to the Sealife Centre in Manchester. The children absolutely loved their visit and made their teachers so very proud; their behaviour was impeccable.
MOTHERS DAY CARDS
We took a lot of care making our Mothers Day cards and presents and hope the mummies like them.
FUN IN THE SNOW
Once the heavy snow had disappeared and it was safe to play outside, we had great fun using the sand equipment to explore and investigate the snow.
SPRING 1
To enhance our children's learning about narrative, role play and expressive language also to develop their Prime Areas of Development, we have decided to use 'Once Upon a Time' as our story focus for Spring 1, commencing January 2018.
MR. WOLF'S PANCAKES
Mr. Wolf can make super pancakes - but they're not as good as ours!
ACTING
Today the children are giants, Jack and the giant's wife. Who will they be tomorrow?.
BEANSTALK PLANTING
We have planted some beans. The children have all kept a diary of the process and have looked carefully at the changes.
I'VE LOST MY CARROTS!
Little Red Riding Hood has lost her carrots on her way to Grandma's house! The children have used the IWB to record how many carrots were lost and how many were left in the basket.
MULTI SENSORY HANDWRITING
The boys and girls have enjoyed a multi-sensory approach to handwriting. They have used paint brushes and shaving foam to practise letter formation and tricky words.
CHRISTMAS 2017
The children have really enjoyed our Christmas celebrations: they made us so proud at our Christmas concert and they had a lovely time at the party. Lots of gifts have been made ready for the big day!
AUTUMN 2
We have been very busy. We have looked at two books this half term; The Elves and the Shoemaker and The Nativity Story. We have had role play areas to reflect and enhance both books. In Mathematics we have learnt about 3d shapes, length, counting and recognising larger numbers, addition and subtraction. We have just finished learning Phase 2 phonics and our teachers are very pleased because we are beginning to segment sounds in our writing and blend sounds in our reading.
FRENCH DAY
Our school will be learning French in Key Stage Two now and to help launch this, the whole school held a French Day. In Reception 1 and 2 we answered the register in French, listened to some French phrases and even counted in French during our mathematics lesson. We had some yummy French food and made a huge French flag which we showed to the school during a special assembly.
Autumn 1
For our first half term we have used the book The Rainbow Fish. The book has helped us learn about sharing, considering other people and feelings. In mathematics we have learnt about repeating patterns, number recognition 2 dimensional shapes and making number sets to 10. In English we have started our phonics and we have the opportunity to make marks in all areas of the inside and outside classrooms. We are also taking reading books home, so please read with us every day if possible.
We had a walk down to Parkside School where we performed our harvest song in front of a very large audience. Our teachers were very proud of us because we were so well behaved!
Autumn Walk
We had a super walk in our woodland area and discovered some early signs of autumn. We hope you like our photos.
Our first week
The children have completed their first week in 'Big School' and we are very proud of them. They have learnt to play appropriately in all the areas, chose their snack independently, remembering to wash their hands and with a little guidance have remembered our routines. Friday was their first full day and lunchtime was a little challenging for them (and the staff!). Our outside area has been very popular, a little sunshine would be welcome too!